WELCOME TO JERVOIS PRIMARY SCHOOL
Jervois Primary is a regional school with approximately 90 R - 6 enrolments across 4 classes (Yr 7 now commencing at High School from 2022).
Our school staff members provide quality care and have high expectations for student learning and wellbeing.
The whole school supports four foundations; Happy Safe & Belonging; Stop & Think; Learning & Leading; and Challenge (the Learning Pit).
Outside areas for learning and play include a kitchen garden, Nature Play, playground and court areas.
There are various opportunities for student leadership (see Learning & Leading).
We have a school wide approach of showing kindness toward others and being bully-free.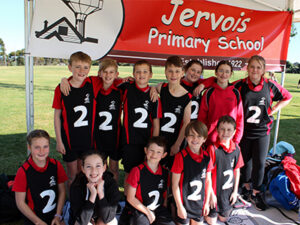 OUR FOUR
FOUNDATION
VALUES


BEING HAPPY SAFE & BELONGING
because we value respectful
relationships, wellbeing & community

STOP & THINK
because we value every opportunity for
student success


LEARNING & LEADING
because we value lifelong learning
& leadership


THE LEARNING PIT
because we value challenge, effort,
persistence & progress
OUR VISION
Jervois Primary School supports students and staff to actively engage
in the process of learning and encourages everyone to learn from mistakes,
and strive for progress. The school works in partnership with families
and community so all become successful learners, confident and
creative individuals; and active and informed citizens.
***

CELEBRATING 100 years of Education in 1922

***
Jervois Primary School celebrated its 100th Birthday with a centenary weekend at the end of Term 3, 2022
See our amazing video developed to promote the event, our school and community connections. Many thanks to the Woods Point Community Centre and The Rural City of Murray Bridge for their funding support for this project.
Stay in touch & see photos from our event on our facebook page: JPS Centenary facebook group - join


2023 SCHOOL TERM DATES
Term 1: Mon 30 Jan - Fri 14 April
Term 2: Mon 1 May - Fri 7 July
Term 3: Mon 24 July - Fri 29 Sept
Term 4: Mon 16 Oct - Fri 15 Dec